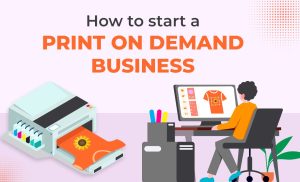 Print On Demand: A Springboard for Your Entrepreneurial Dreams
As entrepreneurial opportunities continue to evolve, one sector that is experiencing a noteworthy surge is the Print On Demand (POD) business. By creatively edging into the thriving e-commerce platform, POD is subtly revolutionizing the way businesses operate. At GetPrintX, we're leading the charge in this domain by providing a wheelhouse of services tailored to meet your unique business needs.
Understanding Print On Demand
The POD business model simply means printing something only after an order for it has been made. Picture this; you have an ingenious design for a t-shirt or a mug. Instead of investing in a stockpile of said product, you only print it once a customer places an order. The GetPrintX platform is an excellent option that provides seamless 'print-on-demand' services.
To provide you with an in-depth view of this realm, let's delve into an article I stumbled upon recently. "Top 5 tips for launching your print-on-demand business today" is a brilliant guidethat breaks down this complex idea into manageable chunks. Packed full of must-know tips and foolproof strategies for kick-starting your venture into the POD world, it is arguably the perfect 'How To' you'll need to bookmark right now.
Why Print On Demand Makes Sense
POD comes with a range of benefits that traditional businesses might not offer:
Minimized Risk: Since products are only manufactured after orders are placed, businesses need not worry about unsold inventory.
Low Startup Cost: Again, as there is no bulk ordering involved, starting a POD venture requires minimal upfront capital.
Ease of Operation: With no inventory to deal with, businesses can instead focus on creating fantastic designs for their products.
As explained in "How to provide outstanding customer service as a print-on-demand business," prioritizing top-notch customer service in your POD business can help you stand out in the crowd.
Unleashing Creativity with Print On Demand
One of the most exciting aspects of POD is the possibility to unleash your creativity. Whether you're a budding artist or aseasoned designer, POD allows you to transform your fantastic ideas into tangible products. As you experiment with various designs and products, the "Top 10 T-Shirt Printing Tips for Better Results" might prove to be a worthy read.
From Ideas to Reality
Entering the rich landscape of POD, you're not just dealing with tangible products; you're harnessing your creativity into forms that resonate with your customer's emotions, values, and identities. With GetPrintX, this journey "From Ideas to Reality: The Art of Print On Demand" is smoother than ever.
Print On Demand with Shopify: A Seamless Experience
The Shopify Print on Demand service by GetPrintX allows you to easily set up your online shop and manage your product list. With a simple workflow, lightweight operations and no need for inventory management, it's your gateway to an enhanced POD experience.
Wrapping Up
POD is transforming the landscape of entrepreneurship. WithGetPrintX as your reliable partner, you can leverage this dynamic platform and "Use Print on Demand Services to grow your Business". Thanks to POD, the gap between an idea and a successful product has never been shorter.
If you have innovative ideas and a burning entrepreneurial spirit, print on demand could be your launchpad to success. To learn more about its benefits and to understand how you can integrate it into your business strategy, explore our information-rich content at GetPrintX and begin your journey into the vibrant world of POD today!
Remember, in the orchestra of entrepreneurial opportunities, you can be the conductor with POD.
Embark on a Print on Demand Journey
You might be asking, "How do I launch my own POD venture?" The answer is simple: with a platform like GetPrintX, getting started is as easy as 1-2-3.
Artwork & Design Preparation – This is where your creative juices flow. Remember, the uniqueness of your designs can set your products apart. Need a little guidance on ensuring high-quality prints? Our article on "Top 10 T-Shirt Printing Tips for Better Results" has you covered!
Product Selection – Choose which products you'd like for your designs. GetPrintX offers a plethora of options, ranging from apparel to home decor.
Store Integration – Once you're happy with your designs and products, integrate your artwork with an ecommerce platform. If you're using Shopify, don't worry—we offer efficient Shopify Print on Demand services.
Exceptional Customer Service: Key to Success
In any business, outstanding customer service goes a long way in not onlyattracting but also retaining customers. When you 'wow' your customers with exceptional service and quality products, they become ambassadors of your brand. So, how do you provide excellent customer service as a POD business? For insights, read our article on "How to Provide Outstanding Customer Service as a Print on Demand Business".
Making the Most Out of Print on Demand
Once you've set up your print on demand business, you'll want to find ways to optimize and grow it. For that purpose, our feature "How to Use Print on Demand Services to Grow Your Business" provides crucial pointers. From diversifying your product range to employing marketing strategies to boost sales, the piece serves as a roadmap for future expansion.
The Future of Print on Demand
The POD landscape is constantly changing and evolving. It's influenced by factors such as consumer demands, design trends, and technological advancements. To stay on top, businesses need to be ever-adaptive and innovative. As your POD partner, GetPrintX is committed to updating you with the latest industry news and advancements to keep you ahead of the curve.
Conclusion
Stepping into the dynamic world of print-on-demand can be exciting yet daunting. At GetPrintX, we help ease that transition—from ideation to the grand unveiling of your products.
We're not just about providing a platform for your POD journey; we're about making your success story a reality. Whether it's creating a compelling design that resonates with consumers, to finalizing the look of your custom product, and even delivering a seamless shopping experience—we're there to guide you every step of the way.
So why wait? Dive into the world of print on demand today, and unleash your creativity with GetPrintX! # Staying Ahead with Print On Demand
In a world obsessed with customization, the POD industry has seized the opportunity, marking its robust presence in the online marketplace. As this wave continues to swell, staying ahead of your competitors can be challenging. However, with the right strategies and a market optimized for your target audience, your POD business can scale new heights.
Print on Demand Optimization Strategies
Optimal utilization of print on demand services to grow your business involves a keen understanding of the market dynamics and audience needs. Constant updates to your product inventory by adding new designs or innovative print ideas can keep your business in the game.
Integration of your POD services with an e-commerce platform befits this strategy magnificently. For instance, the Shopify Print on Demand service by GetPrintX allows you to easily set up your online store and efficiently manage your product list.
An Unbounded Universe of Designs
Print on demand business is not just about the technology and tools but also about the design landscape. With a plethora of design possibilities, you can capture a variety of markets. Our article "Top 10 T-Shirt Printing Tips for Better Results" can guide you through optimizing the design process for the best results.
Evolving with the Market
Consumer demands and design trends keep evolving in the POD industry. To stay afloat in this sea of modifications, it is crucial to be aware of these changes and adapt accordingly. As part of GetPrintX, you can tap into the news and insights provided and stay abreast of the upcoming industry trends.
Customer Service – The Business Backbone
In a POD business, products might sell your first order, but your customer service is what gets the next. Outstanding customer service is essential for customer retention and building a sustainable business. For guidance, explore our article on "How to Provide Outstanding Customer Service as a Print on Demand Business".
Conclusion
What makes GetPrintX stand apart is that we're not just a POD service provider, but your companion on this creative journey. From ideation to product delivery and beyond, we stand by you, lending our resources and insights to ensure your business blooms wide and far.
So, are you ready to embark on the voyage of capturing consumer hearts with your designs? Initiate your print on demand business today with GetPrintX and contribute to the business world, one print at a time!
}